Discover how UP has made an impact…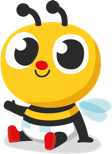 Very easy and user friendly
It is very handy to have UP when you are looking for ways to engage and encourage your children's development as well as for inspiring ways to play with your children in every day situations.
A great resource to support parents and children and an excellent tool provided by Busy Bees which other nursery providers wouldn't do - we are very lucky!
UP for Educators
UP provides our educators with a wealth of quality learning experiences and essential guidance. UP pushes the boundaries to deliver even better learning outcomes, giving Busy Bees children the very best start in life. There is something on UP for all educators; download UP and see how this can enhance your practice today!